International Travel Tips: Things to Know Before Travelling ~ Checklist:
Whenever you're planning to travel abroad, always check what the best season to visit is with some tips checklist. Now that may vary from place to place. If you're planning a budget a trip then going off-season can be a good idea.
International Travel Tips: Check List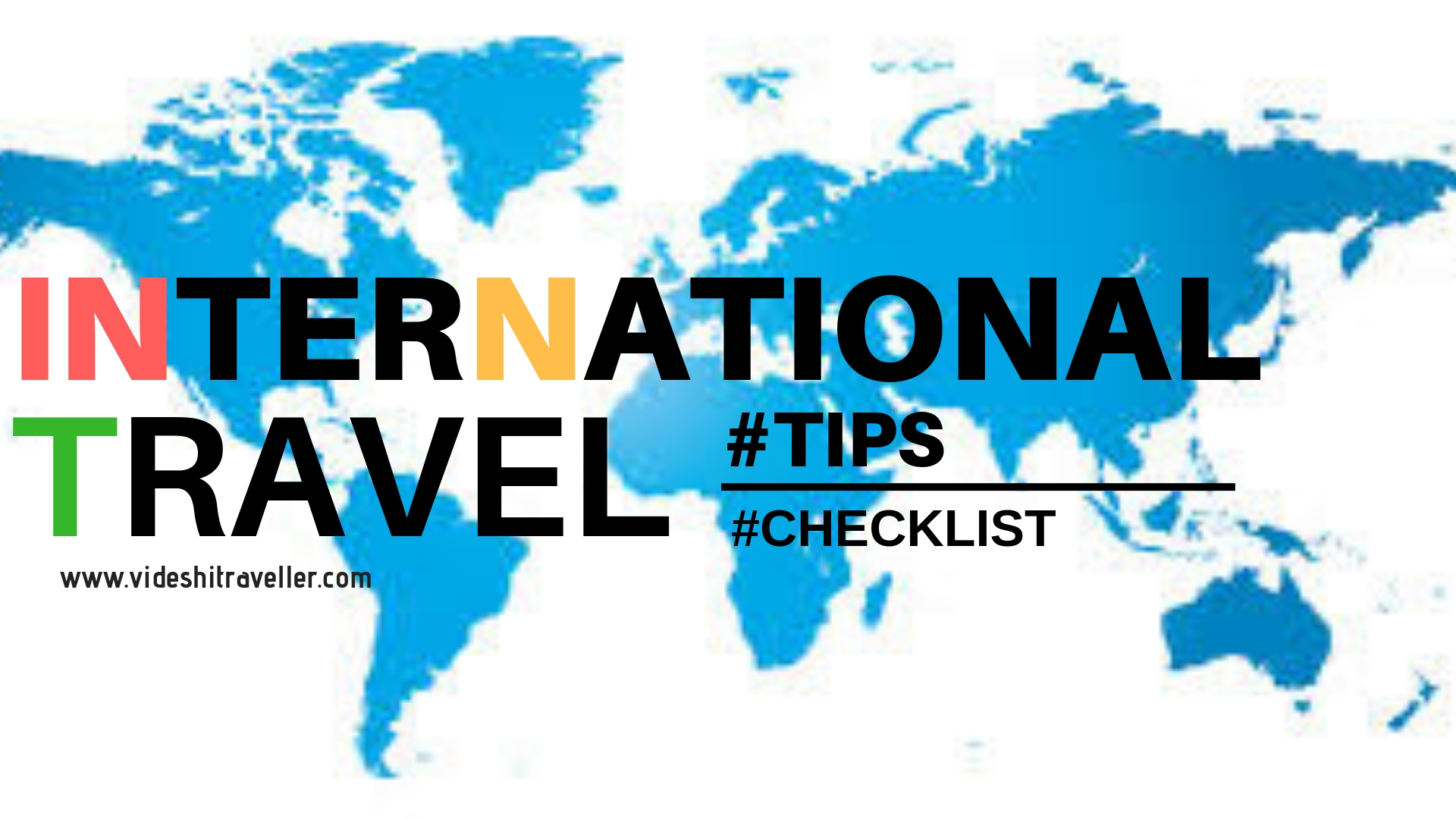 whenever you are heading out on an international Trip for 1st time, there are some abroad visit tips that will help for making trip with easiness. That is because when there are more tourists at a place, everything tends to become expensive. The weather also plays a major role in this. Also be flexible with your travel dates and duration. This can be a big boost on your budget as you can find cheaper deals for both travel and accommodation.
Here are Some Tips heading out for international visit: 
·         Getting Cash: Always make sure that you carry some extra cash with you, that you can get converted into the foreign currency. It quite often happens that people rely on their Credit and Debit cards but when they stop working in a foreign country, they run into trouble. So it is always a good idea to research about the financial working aspects of the country that you're planning to visit. Also when you're travelling, always keep cash at different places. This is pretty obvious because if you happen to misplace your wallet or your purse, you can still be assured to have enough cash with you for the trip.
·         Medicine: Nobody wants to fall ill on a foreign trip but it's better to be safe than sorry. It's always recommended that you carry the necessary medications before leaving for your trip. Now that could be your regular medicines or something that could help prevent bad health on the journey. For example, if you know that you're prone to motion sickness then do carry the antibiotics as preventive measures.
·         Mobile Data: International roaming charges are something that you should always avoid. Normally there are two options that you can go for, either get an international pack for your local SIM or buy a completely new SIM card in the foreign country. Both the options work well with people. It all depends on your convenience.
·         Advance Bookings for Accommodation: Making advance bookings online for accommodation can really save you lots of money. Plenty of websites offer deals that you can take advantage of. Getting a reservation beforehand also lets you travel carefree. Because many a times, the accommodations get filled up during peak tourist seasons. Nowadays, apart from hotels, there are plenty of options including hostels, guesthouses, resorts, etc.
·         Useful Travel Apps: Technology has definitely made our lives easier. Travel in today's time has become a lot more convenient thanks to the highly useful mobile applications which are readily available to us. Be it flight bookings, finding accommodations or checking out food outlets, everything can be done on smartphones. For example, a very useful app in finding directions is Google Maps. With this app, I assure you that you can never get lost. Also it helps you find the shortest and the quickest ways to travel from one place to another. This also saves a lot of unnecessary expenditures!
·         Public Transportation: Public transportation is the best mode of travel in a foreign country. Do not take taxis until it's very urgent. Today, a lot of countries have well developed public transportation systems that include Metro, Buses, Monorails, Ferries, etc. These are always cheaper and at the same time let you travel like a local. A completely new experience altogether. Use cycles or travel by foot whenever possible!
·         Student Discounts: One can never deny the fact that students get a lot of privileges everywhere. A lot of tourist places offer special student discounts which should be taken advantage of. At times, you can even find student discounts being offered in public transportation systems as well.
·      Photos/Scanned copies of Important Documents: Always keep photos or scanned copies of your necessary travel documents including Passport, VISA, Reservations, etc. A hardcopy also works well. This is important because you never know when you might find a need for it.
·         Explore local markets and eat like locals: If you really wish to have a local experience, then go for the local cuisine. You'll definitely find a lot of local markets which might be serving street food. Just be cautious if you're a vegetarian. Always make sure that you know what's there in your plate. Try learning some words in the local language so that it becomes easier to make conversations with the locals.
·         Pack light: At the time you are packing for your trip, make sure you put in only the necessary things. Especially with clothes, we happen to pack so much at the start and end up using half of those on the entire trip. Always analyse the weather conditions of the place that you're planning to visit. This will give you a better idea of what to include in your packing list and what not to.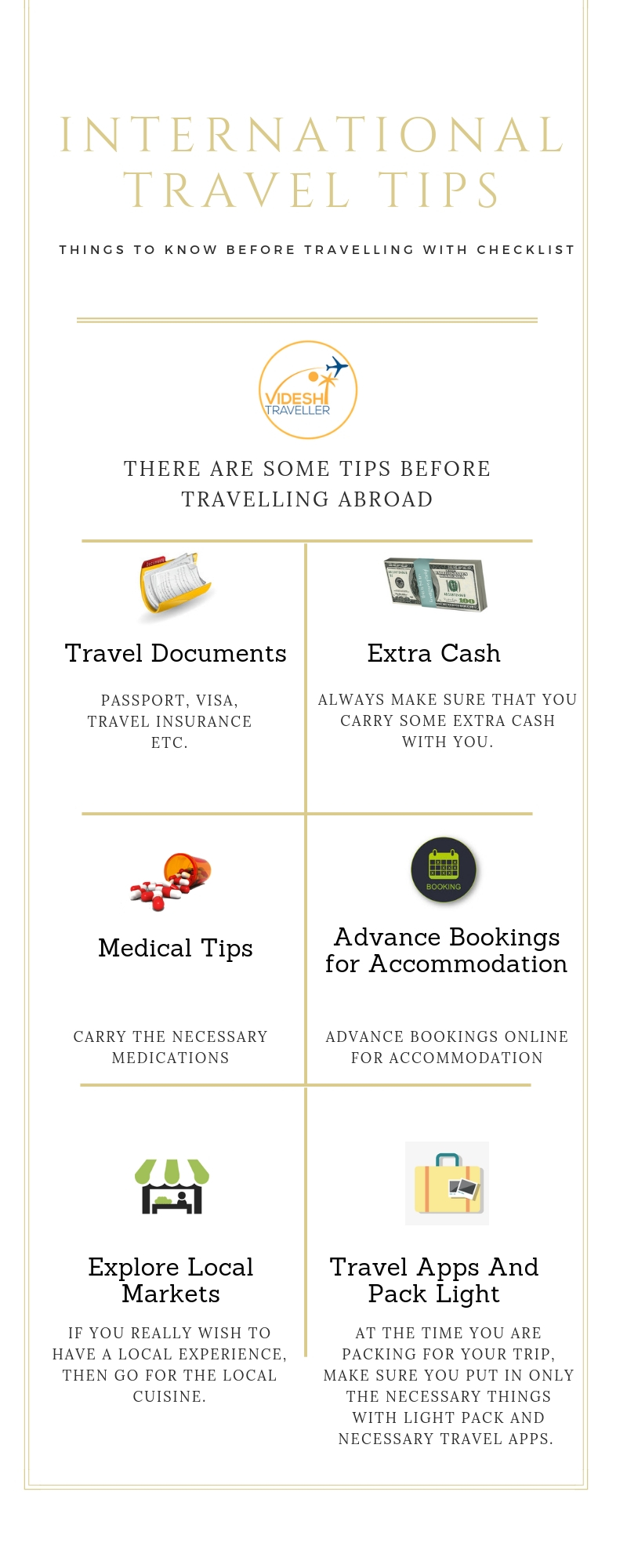 All Visitors are advised to bookmark our Website for getting Swift detailed information regarding Travel Tips and Ask Your Questions in Comment Box Below.