World Top Best Bachelor Party Destinations Famous ~ Travel Tips:
For last couple of years, there has been a sharp increase in bachelorette parties across the world. No longer are brides-to-be celebrating their final fling with a simple night out on the town. Instead, brides and their squads are planning to go beyond top destinations around the world for weekend long getaways with friends. If you wanted to know what the most popular bachelorette party destinations are, so after survey we come out with these enlisted places, cities & destinations where Bachelor & Bachelorette Parties have quite bromance. While Las Vegas is still the favorite among Bachelorette's destinations, Chicago was a close second followed by popular beach destinations like Miami, Mexico, Montreal, Manchester and Morocco.
Top Best Bachelor Party Destinations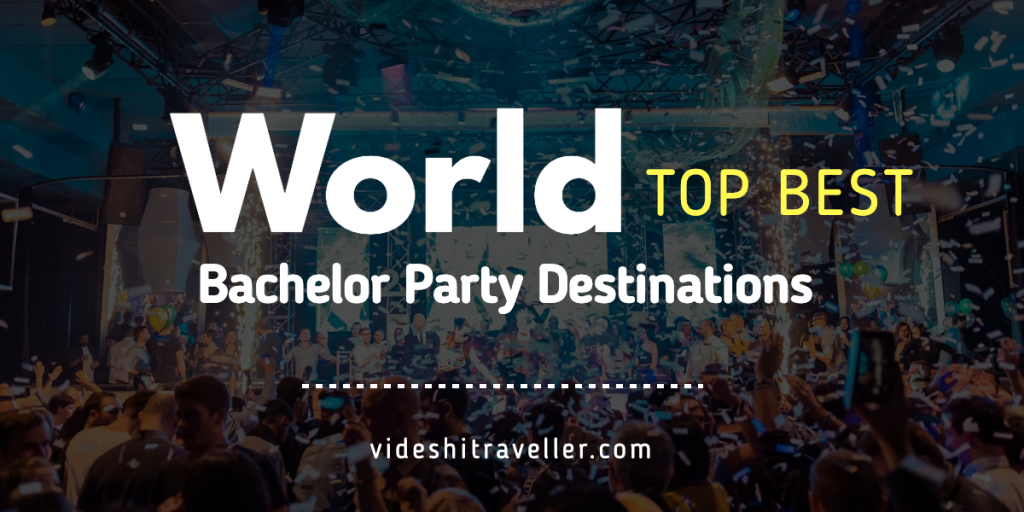 As per survey reports travelers have ranked these destinations as their top favorites for bachelorette weekends. We were also excited to line up the hot destinations for Bachelorette making up the Top 15s. We've been around these destinations and right now on the verge to display the ultimate list of destinations for bachelorette trips around the World.
Here are the top picks for top Bachelor & Bachelorette party destinations across the world-
Las Vegas – The Sin City
Las Vegas claimed the title of the most popular bachelorette party destination as per survey. Be it the late night club party, hottest pool party, Night out party with Vegas girls, Pole dancing class, visiting seven magic mountains, neon museum or the high-stake gambling, yourLas Vegas bachelor party with your friends will be an event to remember for a lifetime.
Chicago
It's easy to see why Chicago is quickly becoming one of the most popular bachelor party destinations in the US. The city has something for everyone. Beach, Professional sports, The Bulls, Bears, Blackhawks, Cubs and White Sox all call Chicago home. In Food Deep-dish pizza and Italian sausage are a must. And Chicago has more than 60 breweries inside its city limits alone. A lot of bachelorette party ideas are lame. The thing is, they don't have to be especially not in Chicago. There's always time to squeeze in a meal at one of Chicago's best restaurants or grab drinks at the coolest cocktail bars, but these group-friendly ideas will keep the bride and her friends on their toes.
Miami
The city's status as a major place for bachelorette parties has given rise to a thriving nightlife. Many of the larger nightclubs in downtown Miami are high-end, and cater to most bachelor party groups, the less popular clubs and independent establishments are more suited for a typical bachelor party crowd and can be much more entertaining.
With its awesome oceanfront views, amazing food, easy access to some of the country's best sports, and 24-hour club scene, Miami's South Beach has all the features of an ultimate bachelor fest. Partying in the city is not only confined to the popular South Beach, but also to the other parts where you get to experience the best of dance, drinks and music.
Mexico
Known popularly for its beaches and nightlife, Mexico is amongst the top best bachelor party destinations in the world. If you are on a budget and going to a domestic destination does not seem like fun, Mexico can offer you a lot of cheap places for bachelor party. This place is as affordable, as you would want. There you would find quite beautiful Hotels with lodging tree-houses, restaurants, and surrounding farmlands and overall fun as you would guess.
Bali Indonesia
Every night of the week, visitors and local residents hit Bali's many pubs, clubs,and beach clubs bars. Low-key spots, with affordable drinks let you unwind and make new friends, while upscale bars and pubs attract you with delicious cocktails, imported beers, fantastic food, and world-class musical entertainment. You can also take the ultimate Bachelorette adventure trip to this luxury retreat set amongst the treetops of the Balinese jungle.
California
There's a saying, "when the sun shines, we shine together," that perfectly sums up the celebration goals of a bachelorette party. You with your bride / friends are sure to find out a best bachelorette party destinations in California! Whether you're seeking a glitzy and glam getaway or a culture-packed escape, you'll find it in eclectic Cali. You can enjoy all the great outdoors has to offer, from the palm trees to the Pacific sunsets. In Retro Glam which is located 100 miles from LA this dreamy desert bachelorette party destination in California has glamorous go to go spot for artists, celebs with their muses.
Montreal
There are innumerable reasons to visit Montreal, not least of which is its affordable and late club scene centered, as well as the city's fantastic summer festival lineup including its fantastic beer, jazz and comedy fests, and its access to European flair without ever leaving the continent. The city's summer festival lineups, which include fantastic beer, jazz and comedy fests make it one of the top places for bachelor party in the world.
Manchester
Manchester has so much to offer a hen night, from salsa to cocktail lessons, night clubs and sophisticated restaurant bars, there really is something for every style and budget. Manchester is the home of attitude, music, fashion and nightlife. Studded with stylish bars, clubs and restaurants this place will seize all your sanity so that you can let your hair down and party hard. This is the town where you can enjoy the most unforgettable days before your special day. So whatever you're after, from a chilled out affair to a full blown party, celebrate your last night of freedom with a hen party in Manchester and you would get a mesmerizing picture which you'll never forget.
Morocco
Every city in Morocco definitely excites the visitors but Marrakech, the Paris of Morocco, is quite charming city with endless paths leading to some of the best entertainment a city offers. Yes, there are nightclubs in Morocco too! In Agadir you'll find a club called Flamingos which plays European and modern music. You can also check out Papagayo Nightclub, located in the Tikida Beach Hotel. Most of the clubs in Agadir are in hotels so look there if you're having trouble finding one. Morocco has something for everyone, offering a one of a kind nightlife that will dazzle and astound your bachelorette party experience.
Conclusion-
While you want to keep most of the details a surprise, you do need to ask the bride/ groom / friends to ask for invite to a bachelorette party. But the truth is bachelorette parties are fun. They are one of the rare adult opportunities we get to get a bunch of our (girl) friends together, and just focus on having fun and each other. They allow us the opportunity for ridiculous over the top party planning and celebrating someone you adore.