How to Study in USA? GRE, TOEFL & F1 Visa Tips:
"How to Study in USA", Hey Friends !! After the complete information about B1/B2 USA VISA Process, Here We Come With New Latest Topic About Student F1 VISA which will help to answer your query and will help one question in mind of every student "how to apply for US student visa". This is a type of visa which allow to students to study in the United state at an approved school, or US College/University certified by (SEVP-Student and Exchange Visitor Program) Program or approved english language based program with one condition i.e. course of study must be more than 18 hours a week.
US Student Visa
The United States of America (USA) invites & welcome from Foreign people who wants to study at the level like University or College, High School, Private Elementary school, seminary, conservatory or other training vocational programs, So before applying USA Visa as Students (F-1 Type) applicants must fulfill the requirement of being accepted & approved by their in school, institution or program. As for Student Visa queries, there are many us student visa consultant in Delhi, Mumbai, Chennai, Hyderabad etc. For Student visa TOEFL/IELTS/GRE/GMAT must required for US Student Visa.
US Student Visa Types: US Immigration Authority provides three types of Student Visa for foreign nationalists as follows;
F1 Student Visa ; this type of visa provides for the student to study as academic for graduation and post graduation purpose full time.
J1 Student Visa ; This Type of visa is only for the students, scholars or lecturers who wants to participate in an exchange program (high school or university study).
M1 Student Visa ; This type of student visa is given to the non-academic or vocational study program or person who wants to do technical training in the United States.
US Student Visa Requirements: before applying for student visa, take a look of US student visa requirements for indian citizens as follows ;
Must be Enrolled in an Academic or Non-Academic or Vocational Education program in United States's Universities or colleges under approved USCIS.
Your School or University or College must be approved by the USCIS.
Must be Enrolled & registered as full time student in the Institution.
Student must have sufficient funds for program fees and self support living money.
must be expert in English proficiency according to your program..
US Student Visa Process
US Student Visa Application can be filled or apply online by following some steps which are as follows: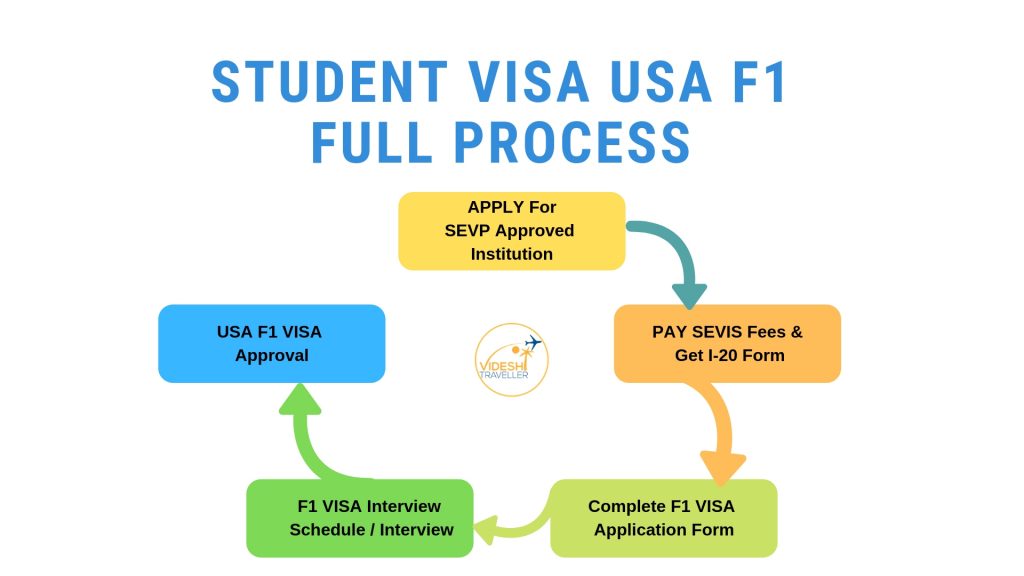 (A) Apply to an Approved Institution / University / School which must be accepted by Student and Exchange Visitor Program (SEVP); Before Apply for F1 Visa, Every Students must be apply for an institution and program by the SEVP US government.
(B) Pay (Student and Exchange Visitor Information System) SEVIS fee & Get I-20 Form: after choosing institution and program, students have to pay for fees which is 200 US$ (14000 INR Approax) for F1 Student VISA.
(C) Complete a US Student VISA (F1) Application Form & Pay F1 Visa Fees; After paying SEVIS fees you can apply f1 student visa with SEVP Approved School/University and Your I-20 Form or Paper which will you get after depositing the fees. Then fill the Non Immigrant visa application Form DS-160.
Apply From Here DS-160 Non Immigrant Visa Application Form
(D) Pay the visa application fee: Deposit the US Student Visa Fees Which is 160 $ (US Student visa fees in Indian Rupees = 11520.00 INR) and take print out of deposited fees. you can pay you f1 visa application fees online and offline in both way.
| Fee Amount (in USD) | Fee Amount (in INR) | Visa Type | Description |
| --- | --- | --- | --- |
| $160 | 11520.00 | F1 | Student (Academic) |
| $160 | 11520.00 | J1 | Exchange Visitors |
| $160 | 11520.00 | M1 | Student (Vocational) |
Document Checklist Required for F1 Student Visa which are as follows:
i) DS-160 Application Form
ii) Valid Passport
iii) One (1) 2 x 2 inches (51 x 51 mm) photograph (Taken within last 6 months) (US Student Visa photo size)
iv) Approved & Signed I-20 Issued by SEVP authorized University / School/
CHECK VISA Application Status Here
(E) Schedule the Visa Interview Dates & Attend the viva-voce: After All These Process, Final step to Arrange & Attend the Visa Interview. So to attend the Visa Interview, student must book the appointment as us student visa appointment dates. There are some documents required for us student visa interview which should be carried which are as follows:
i) DS-160 Application Form
ii) I-20 Form
iii) Academic Qualifications Documents,
iv) Bank Statement,
v) ITR Documents of Parents
vi) Financial Undertaking by a responsible person to cover your accommodation and living costs.
vii) if you are going through scholarship program so carry certificate of scholarship.
viii) SEVIS fee receipt
ix) Score Sheet of Examinations like TOEFL, GMAT, IELTS etc.
x) VFS Appointment Letter
xi) Loan Approval Letter (If Applicable)
Funds Required for US student visa
many students ask question regarding student visa 'how much minimum bank balance for US Student VISA' required to show the Visa officer. so Keep in mind a student should show the one year tuition fees of your course with one year living cost in USA only in liquid cash. Student's parents or relatives can show the funds in the format like Fixed Deposits (FD) Receipts or Saving Bank Account Statement attested by the Bank or PF/PPF Statement or in the form of Solvency Letter etc.So student must show the bank letter for US Student Visa.
USA Student Visa F1 Interview Questions
There are some us student visa interview questions which will help you to face the interview as follows:
i) What is the Name of College or University or School ?
ii) Why did you choose this course for study in USA ?
iii) How Many Universities did you apply for study in USA and Why ?
iv) Reasons behind for studying in USA ?
v) Duration of Course or Study in USA ?
vi) Tell us About Your Academic Background ?
vii) who sponsored for you study in USA ?
viii) Do you have any relative or friends in USA ?
ix) Tell us About Your Parents income ?
x) Have you ever planned on working while you are studying ?
xi) After Finished Study in USA, Do You have any plan to stay in United States for Job purpose ?
xii) Have you ever visited the United States ?
xiii) Have You appeared for the TOEFL/IELTS/GRE/GMAT Exam ? If Yes, then Show Your Score Card ?
xiv) Where is your college or university located in the United States ?
xv) For How many Universities you applied according to your program ? In which University you accepted ?
xvi) Do You have Friends or Family or Relatives in the U.S. ?
xvii) Show the Income Tax Returns ?
xviii) Have You Taken Any Loans previously ?
xxi) Why Should you be granted an approval for a f1 visa ? (important one)
How to Face US Student Visa Interview with Tips
There are some tips always keep in mind during this full visa purpose as follows :
i) be Confident
ii) don't be nervous
iii) Stay calm & easy during interview
iv) carry all documents each and every which you have
v) don't be over smart
vi) make a decent eye contact with interviewer
US Student Visa Rejection Rate : Under U.S immigration law a visa can be denied by the visa officer if the applicant fails to establish eligibility or fails to meet the requirements of student visa category according the rules of this visa category. because of some reasons like fails to show the intention to remain in U.S., fails to show the financially ability or your education qualification doest not meed the requirements according to apply for study in USA. As well as the US Student Visa Acceptance Rate 2019 also increased for applying F1 Student visa and Accepted also.
US Student Visa Processing Time : Normally the application processing time takes 3 to 7 days and if your application has some issue then it may stretch up to few months according to embassy or consulates.
US Student Visa Duration : The duration of student visa depends on the student's I-94 card and student can stay in the United States as you're enrolled in the school or university to complete the course. After the completion of program, student have to return back within 60 days.
Affidavit of Support for US Student Visa Format : While Applying for the US Student Visa, student must show the Sample Affidavit of Support which prove that your family or relatives have enough money or funds to sponsor the study in the United States.
US Student Visa to Work Permit : F1 or M1 Student Visa holder may not work off campus during the 1st year of their program but may accept on-campus employment with some terms & conditions.
US Student Visa Videos
Hopefully we cleared all aspects regarding to f1 student USA visa with US Student Visa Policy & Regulations. So If Any person have any queries regarding to this, please comments in comments box. Keep in touch with us for the US Student Visa latest news.