Philippines Visa for Indian Citizens Application Form ~ Documents Required Fees:
Philippines Visa has been in great demand now days as most popular tourist destinations with rich biodiversity, beaches, heritage towns and monuments, mountains, rainforests, islands etc for Indian travellers. The Indian Passport holder depending on the plan to visit the Philippines according to their purpose of travel like As Student, Business or Traveller. In this Article we will explain about the Philippines visa for Indian with application, Requirements & Documents you must carry while applying for the Visa.
Philippines Visa for Indian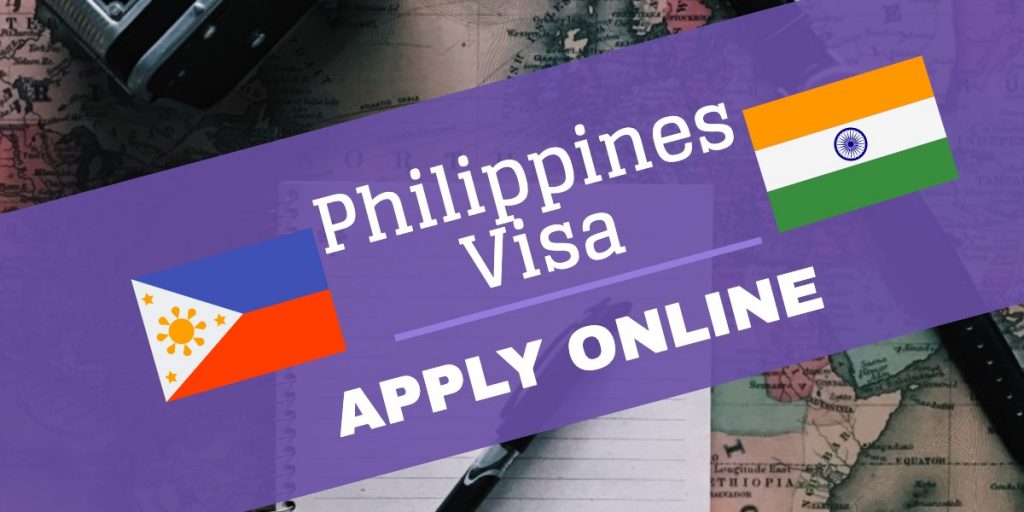 If you are planning to travel the Philippines From India, there is quick visa process with valid travel documents through which you can enter the Philippines. But Before applying for the Philippines Visa you should know about categories of visas. One can travel (1) Through Applying the Visa From Consulate / Embassy (2) Through VISA on Arrival (VISA Free Entry). Here we will help the all travellers in both way to fill the online application form for Philippines VISA.
Apply Visa From Consulate / Embassy
Indian Nationals holding a regular passport can apply for a temporary Visitor visa as Single Entry or Multiple Entry for 6 Months authorized by the consular officer. There are different ways to apply for the Philippines visa like as a person at Embassy / Consulate or through a travel agency. But here we will explain through Embassy or consulates which are as follows.
Visa Application Requirements & Documents:
While Applying through Embassy or consulates the consular officer may ask for the all types of basic & additional documents related to your application form according to their rules. here are documents checklist which you have to carry with you during visa process:
Fully Filled Visa Application Form in English Language : Apply Here
Valid Passport with Validity of 6 Months
Two Color Photographs
Cover Letter duly signed by authorised signatory with company stamp: The cover letter includes Travel Details, About Traveller, Purpose of Visit and Duration of Stay there
Note: if applicant is self employed than it should be on company's cover letter signed by the owner
Proof of Return / Onward Flight Ticket
Proof of Hotel Booking or your Accommodation
Original and Photocopy of Income Tax Returns (ITR) for last 3 years
Photocopy of Pan Card
Payment of Visa Processing Fees in demand draft drawn from any bank in India with branch in New Delhi payable to "Embassy of the Philippines"
Proof of Travel Insurance
Salary slip for Last 6 Months (For Employee)
Leave Letter signed by HR Company (For Employee)
Credit card copy or Foreign Exchange Proof
Bank Statements for Last 6 Months & Signed by Bank Officials
Visa Application Processing Fees:
This is the all visa processing fees and cash payment is not allowed you have to pay the fees in the form of Demand Draft (DD) from any Bank in India payable to "Embassy of the Philippines".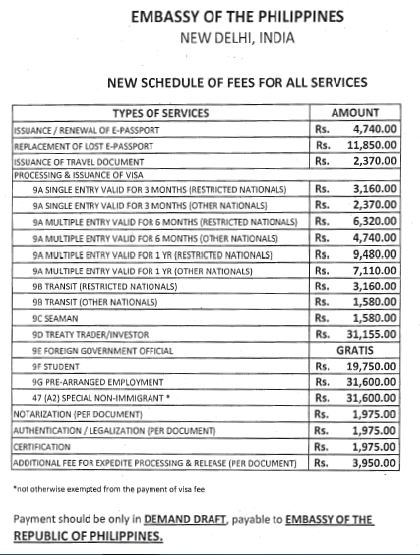 Submission of Visa Application Form
Applicants can submit the dully filled application form with all documents to the Consular Section of the Embassy of the Philippines New Delhi at 9:00 AM to 10:30 AM Monday to Fridays.
Visa Collection
applicants can collect their passport on the third working day from the date of submission from 10:30 to 11:30 AM Monday to Fridays and Approved visas may be released on the same day it was applied (same day release) or on the second working day (following day release). Same-day release is from 4:30 to 5:30 pm. Following day release is from 10:30 to 11:30 of the next working day.
Philippines Visa On Arrival For Indian Citizens
There is another way to get entry in Philippines as travel purpose and traveller don't need to pay visa fees or any forms and this visa valid for 21 days. Indian Passport Holders who have a valid US, Japanese, Australian, Canadian, Schengen, Singapore, OR United Kingdom, can visit the Philippines as a 14-day visa free entry which can be extended for additional 7 days (As maximum 21 days).
Documents requirement for Visa on Arrival:
Valid Passport with Validity 6 Months
Proof Return or Onward Ticket
Note: if your trip is more than 21 days than as a Indian nationals require to apply for the temporary tourist visa at the the Embassy in New Delhi.
VISA Fees:
| | |
| --- | --- |
| Visa Category | Visa Fee (in INR) |
| Single Entry | 2,840/- |
| Multiple Entry (6 Months) |    4,680/- |
| Multiple Entry (1 Year) | 8,520/- |
| Long Term | 28,400/- |
Address:
DELHI
Embassy of The Philippines
50-N,Nyaya Marg, Chankyapuri,
New Delhi -110021
Tel : (11) 2410 1120 / 2688 8838 / 2688 9091 / 2611 0152
Fax : (11) 2687 6401
If you have any queries ask in comment box.