Top 45+ USA H4 Visa Interview Questions | United States :
H4 Visa Interview Process is the last process which decide that you will get the H4 Visa or Not. SO before appearing in the Interview be prepare yourself to give answers with patience. The Immigration officer at Embassy or consulates will verify the information about H4 Visa related, About Yourself, about Your marriage and about your spouse who is H1 Visa holder working in US.
H4 Visa Interview Questions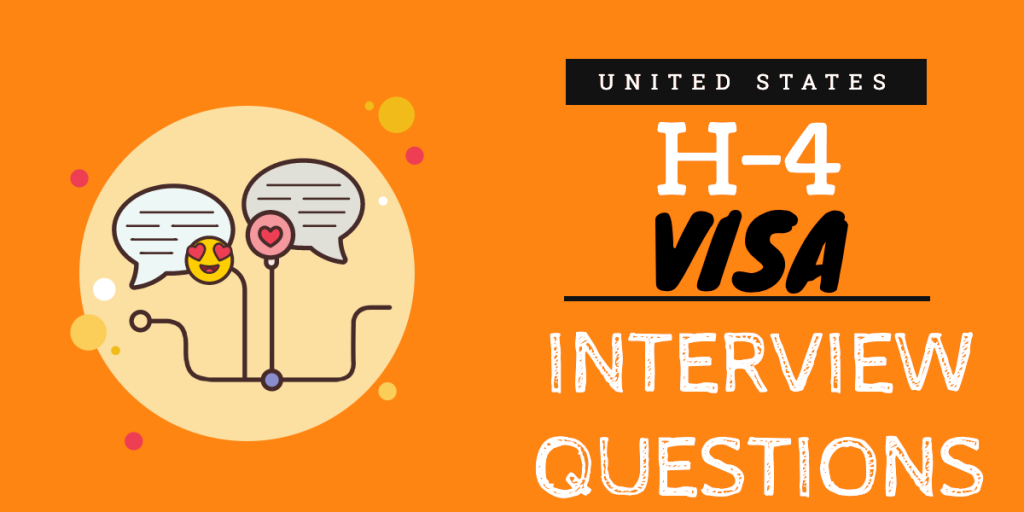 In this Article we'll provide all types of samples questions that can be asked during your H4 visa process. These questions are enabled from the experiences shared by the approved H4 visa holder who already qualified the interview process. Since H4 visa process is different for every person according to the variations of the questioning and depends on the visa counsel officer. So please take a look of H4 Visa Interview Questions samples list as a guidelines and prepare yourself for the interview calmly.
H4 Visa Interview process depend on the marriage related questions like marriage certificate, wedding invitation card, photo album, H1b visa holder I797 form, employment verification letter, spouse's pay stubs, w2 and LCA etc.
Questions About Your H-4 Visa
Q.1 : Which Types of Visa Do You Want for Approval ?
Q.2 : What is the Purpose of going to the USA ? or Why do you Need an H4 Visa ?
Q.3 : Who filed the US VISA application form & from where you applied ?
Q.4 : Why did you not apply your visa application form yourself ?
Q.5 : Who Made an appointment for the Interview Process ?
Q.6 : How did you get all types of documents required for H4 Visa Interview ?
Q.7 : Why you're not attending the Interview with your husband ? Specify your reason ?
Q.8 : When your husband get an approval for the H1 Visa Stamping ?
Q.9 : Why Are You Applying For H4 Visa When You were married over a year ago ?
Q.10 : You Have Been Rejected Earlier, Do You Know Why ? (Possible Question if You rejected Before)
Questions About H4 Visa Applicant
Q.11 : What will you do in the United States during your stay ?
Q.12 : Are You going to do job in the United States ?
Q.13 : Do You have Family Members who are living in the US ?
Q.14 : Which City or Town are your currently Staying ?
Q.15 : Who reside with you currently ?
Q.16 : Where you'll stay in United States ?
Q.17 : Who will support you financially during your stay in United Stay ?
Q.18 : Who will pay for your trip in USA ?
Question About Your Marriage
Q.19 : Would you please show the Marriage certificate ?
Q.20 : Can You Show You Wedding Album ?
Q.21 : Can You Show Your Wedding Invitation ?
Q.22 : How Long You have been married ?
Q.23 : What is your date of marriage ?
Q.24 : Is your marriage Arranged or Love ?
Q.25 : Who Arranged Your Marriage ?
Q.26 : When did you meet your spouse for the first time ?
Q.27 : Where did you get married ?
Q.28 : Did you get engaged before your marriage ?
Q.29 : Did you go for your honeymoon ? (Yes / NO) and where ?
Q.30 : Can you show me the copy of marriage certificate ?
Question About Your H-1B Spouse
Q.31 : What is the Birth Date of Your Spouse ?
Q.32 : From Which University Your Spouse Graduated & which Year ?
Q.33 : What is the Highest educational qualification of your spouse ?
Q.34 : In Which Company Your spouse work do ?
Q.35 : Where does live the employer of your spouse ?
Q.36 : Where is the company of your spouse located ?
Q.37 : What Kind of Work does your spouse do ? Any Specialisation
Q.38 : For How Long your spouse stay in the U.S. ?
Q.39 : For How Long Your Spouse work for the current employer ?
Q.40 : What is the Annual Income of your spouse ?
Q.41 : Show the Income Tax Returns or Pay Stubs your spouse ?
Q.42 : Show the bank Statements of your spouse ?
Q.43 : Has your spouse applied for the Green Card ?
Q.44 : What will you do after the expiration of Visa ?
Q.45 : When did your spouse leave for the United States ?
if you have any query ask in comment box.