How to Apply H4 EAD VISA ~ Application Form Documents:
The United States Citizenship and Immigration Services (USCIS) does not allow to nonimmigrant visa (i.e. H1b or H4) holder to work in U.S. without the Employment Authorization Documents (EAD). It is a valid document or card which allows to dependent spouses of H1 Nonimmigrants visa holder to work in the U.S, & Eligible H-4 Visa holder can apply for this document with the motive of working with highly skilled foreign workers. This policy was actually implemented for dependent of H1 Visa holder which allows spouses reducing the financial burdens among families with only one working person.
Apply H4 EAD VISA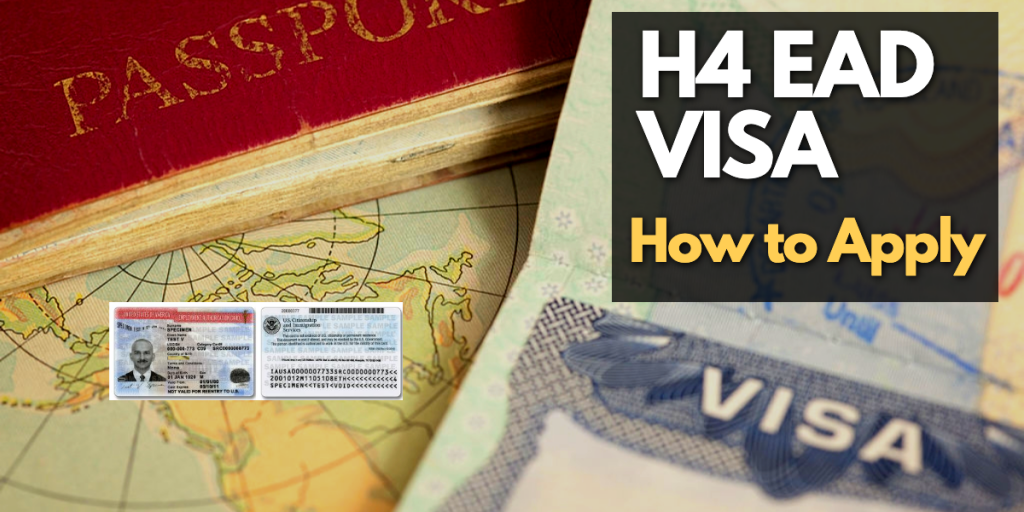 The Applicant with H4 Visa holder who are in the United States of America (USA) as the dependent of H1 Visa holder applicant, can apply for H4 EAD authorization documents through this spouse of dependent legally work in the U.S with this EAD ID Card. The Spouse of H-1B Nonimmigrant who want to work in USA have to file for the Form I-765 along with the documentation of current H-4 Visa or extension of stay.
I-765, Application for Employment Authorization
The certain applicants who are in US and want to work in the united states must apply for the Form-765 which is the application for employment authorization.
G-1145, E-Notification of Application/Petition Acceptance
After the successful submission of the Form I-765, applicants who want to receiver the e-mail or text message that show about your acceptance of form or not by USCIS. So for E-Notification Through e-mail or text message, one must complete the FORM-G-1145.
Form I-94, Arrival/Departure Record
The Department of Homeland security, USA issues the Form I-94 For arrival and departure status records for the other countries applicants who :
(1) Who Already Stay or Admitted to ths U.S ;
(2) Adjusting the Stay Status While in the U.S ; or
(3) A Person Who is Extending their Stay
To Access Electronic Form I-94 Website Here :www.i94.cbp.dhs.gov/I94/#/home
Sample Electronic I-94

Sample Paper I-94A
I-539, Application To Extend/Change Nonimmigrant Status
The Purpose of the Form I-539 is for an extension of stay or a change to another nonimmigrant status for one of them certain nonimmigrants. As easyness please file Form I-539 at least 45 days before your stay expires or as soon as you determine your need to change or extend status.
H4 VISA EAD Eligibility & Requirements
The Spouse of H-1b visa must submit the proof of documentation beneficiary of an approved Form I-140 or your spouse which has H-1b Visa status.
As a requirements of EAD, One must file the Form Form I-765, Application for Employment Authorization mentioned above.
Form I-765 Fillings Fees
Filling Fees = $410
You must also pay an $85 biometric services fee,
H4 EAD Documents Checklist
There are some documents for H4 EAD which are as follows:
(1) Fee Payment (Check Payable to US Dept of Homeland Security)
(2) Form i-765 (Application Form Employment Authorization)
(3) Form I-94 (Arrival Departure Record By US Homeland Security)
(4) A photocopy of previous EAD (Front & Back)
(5) 2 Latest Photos
(6) Show the Proof of Legal Status of Stay in US
-> Evidence of Form I-94 (i.e. shows the admission in H4 Visa Category)
-> Form I-797 (Notice of Action, Issued when an application or petition is approved) For Form I-539 (Extension of Stay) Under H4 Visa Category.
(7) Proof of Relationship or Marriage to the Principal Holder of H-1b Category
(8) Show the Copy of Work Authorization Basis appropriate documents like Approved Form I-140.
Note: Don't forget to sign your form and sign the page where sign required.