H1B Work VISA: A Citizen of Foreign Countries who wish to travel or enter into the United State of America (U.S.A), must have a Legal NonImmigrant or Immigrant Visa. There are Many Types for VISA for Foreign Citizens to enter in USA which are as follows Work Visa, Business/Tourist Visa,Student Visa and Many Others etc. So Among Them We Here explain about "How To Get H1B Work Visa" with full process for temporary stay.
H1B Work VISA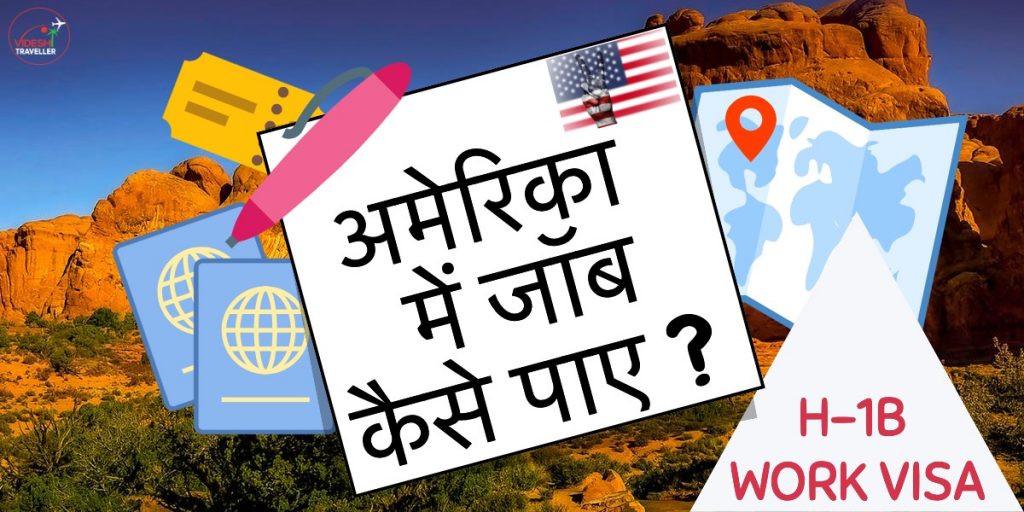 US H-1b Work Visa is the Nonimmigrant type of VISA under U.S. immigration law which the medium of entry in the America for worker Person in Specialty Occupation. We will explain about How To Get H1B Work Visa in U.S.A. So The Citizen of Foreign Country which has the Offer Letter of Employment in hand or Wants to Do Work in US, So you have to apply US Work VISA up to 90 Days Before the job Start Date mentioned on Your I-797 Form.
Highly Skilled Indian Professionals who consider themselves as to work in USA, then H-1B Visa which give permission to get job in America as a Foreign Workers in special occupations or expertise.
Generally, as an employer of particular company and you need to hire foreign employees or labour from other countries, when employees or labour not available in U.S. then employer of the company need to file petition or form to USCIS and DOL Department. They both department of under US Immigration Law give permission or approval to employer to hire employees from other countries after depositing the fees.
H-1B VISA Qualifications
Before Coming to the USA to work as providing services in pre arranged Professional employment, the visa holder must qualify the Valid & legal certificate of Bachelor's or Higher equivalent degree in specific field in which you are seeking job. U.S. Citizenship and Immigration Services (USCIS) will consider or assure about your qualification or eligibility to perform services in the field for which you applied.
NOTE: Your Employer who gave you job, must file a terms and condition application of its contract of employment with visa holder.
Employer can apply for H-1B Visa From 2nd April to 30th September months.
US Work VISA Summary
Petition I-129 Application Form: The Form I-129 is used by the Employer or Agent to Fill the Petition to US Citizenship and Immigration Services (USCIS) department for workers to provide the job in USA.
This Must be Approved by the USCIS before applying for a work visa at the Embassy or Consulate. When Petition is approved the USCIS, then USCIS send the I-797, Notice of Action Form to Employer or Agent which is basic notice to inform the employer regarding their approval.
The Approval of Petition depends on counsel officer who verify through the the Department of State's Petition Information Management Service (PIMS) during your interview.
INDIA US Embassy and Consulates
WORK VISA FEES
| | | | |
| --- | --- | --- | --- |
| USD | INR | VISA TYPE | DESCRIPTION |
| $190 | 13680.00 | H | Temporary Workers and Trainees |
How To Apply US H-1B Work VISA
U.S. Citizenship and Immigration Services (USCIS) approves the Petition Form I-129 Then You should follow these steps to apply for VISA Process: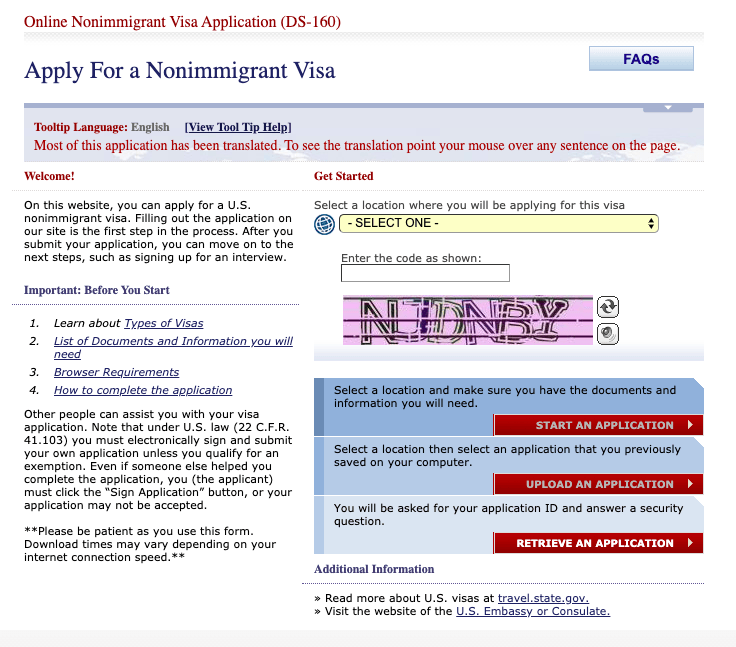 (1) Choose H-1B VISA Type: for nonimmigrant visa Applicants, Choose the Type of Work Visa according to your situation thats verify your eligibility, qualifications and application items according to your job in USA.
Take a look of Work Visa Types:
Visa category
H-1B: Person in Specialty Occupation
H-1B1: Free Trade Agreement (FTA) Professional – Chile, Singapore
H-2A: Temporary Agricultural Worker
H-2B: Temporary Non-agricultural Worker
H-3: Trainee or Special Education visitor
L: Intracompany Transferee
O: Individual with Extraordinary Ability or Achievement
P-1: Individual or Team Athlete, or Member of an Entertainment Group
P-2: Artist or Entertainer (Individual or Group)
P-3: Artist or Entertainer (Individual or Group)
Q-1: Participant in an International Cultural Exchange Program
(2) Fill DS-160 Application Form: Now Further Move on to the Next Step which visa applicants must complete called Nonimmigrant Visa Application Form (DS-160). During Filling the Online Application be sure to read the guidelines with terms & conditions regarding to DS-160 Form.
Documents Needed For Completing the process for DS-160 Form For H-1B VISA Type:
Passport
Travel Itinerary
Dates of your Last Five Visits or Trips to the US
Resume or CV
Copy of Petition Form I-129
Other Information
(3) Pay VISA Fees: Once you completed the step of Correct Visa Type and DS-160 Application Form, then you must pay the VISA Fees according to your visa types like H-1B Visa Fee. After that Save the Generated receipt number printed on your receipt like this: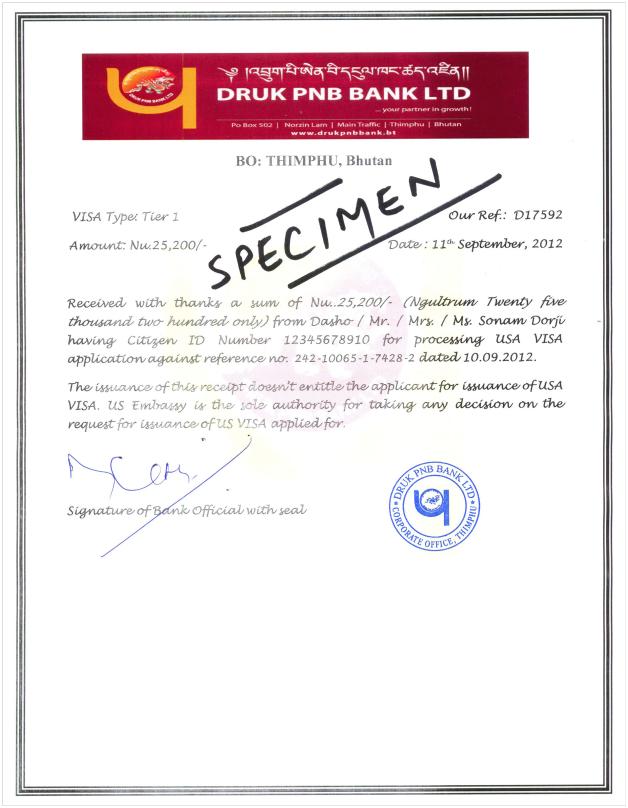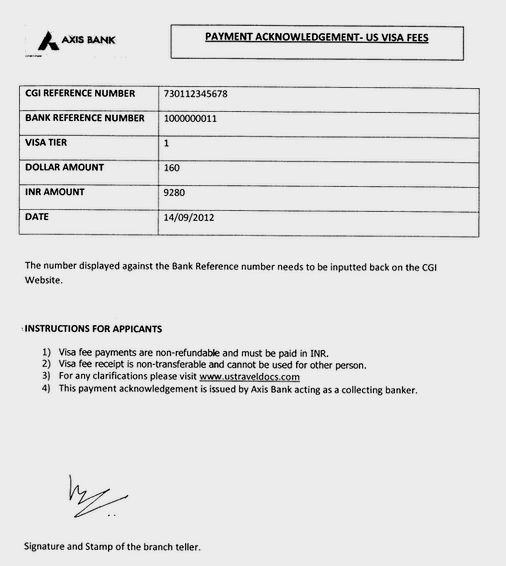 (4) Book VISA Appointment: After Completing these process by paying the VISA Fees, you must book your visa appointment by your receipt number which was generated after paying fees online. (Keep this Receipt Number Safe)
(5) Schedule VISA Appointment: This is the Last Step & almost ready to schedule your VISA Appointment through your profile here. In Your Dashboard Profile page Click On Schedule Appointment on the left-hand side menu.
There are two types of appointments, that you must schedule i.e.
(i) Visa Application Center (VAC) Appointment : This Appointment at VAC Center determines about fingerprints and photo taken.
Documents Required For Appointment @ VISA Application Centre (VAC):
Valid Passport
DS-160 Application Form
VAC Appointment Confirmation Page
One Photograph as per U.S. VISA specifications
Supporting Documents
(ii) VISA Interview at the Embassy or Consulate Appointment: In this process for appointment you need these three types of information
(a) Applicant's Passport Number
(b) Paid VISA Fees Date
(c) 10 Digit Bar Code Number of Your DS-160 Confirmation Page
through these information schedule your appointment for interview at the Embassy or Consulate.
Documents Required For Interview @ US Embassy or Consulates:
Printed Page Copy of Appointment Letter
DS-160 Confirmation Page
Current Valid Passport
Receipt Number Printed On Approved Petition I-129
I-797 Paper Copies (Optional)
Supporting Documents
NOTE: Supporting Documents: There are some supporting documents which must carry with you during interview and appointment process i.e.
Job Qualifications, Supporting Valid Documents
Original Job Offer Letter From Current & Previous Employers
Resume or CV
For Your Spouse Bring Marriage Certificate and/or Birth Certificate (for unmarried children under 21), as applicable
NOTE: Applications without these all documents mentioned above will not be accepted at any stage of processing.
America me Job Kaise Paye
if you have dream of work in America then you should follow all these steps with all terms & conditions. In India There are more questions in everybody's head which are as follows america me naukri,foreign me job kaise paye,america me naukri pane ke upay,usa jane ke liye visa,america bhejne wali company etc.