Bhutan Travel Itinerary For 4 Days Thimphu & Punakha:
How much do we know about one of our beautiful hilly neighbours, Bhutan? This beautiful gem of Asia sit right above us and give the best majestic scenery's of all time. 2019 was the year when I went to Bhutan this nation had me experience something that we people in Delhi miss a lot; yes I am talking about fresh air. Spending just over five days there was enough for me to come back here strong. It all started with the XYZ agency's Plan of Bhutan where in mere Rs10,000 per person. I was able to get an experience for life.
Bhutan Travel Itinerary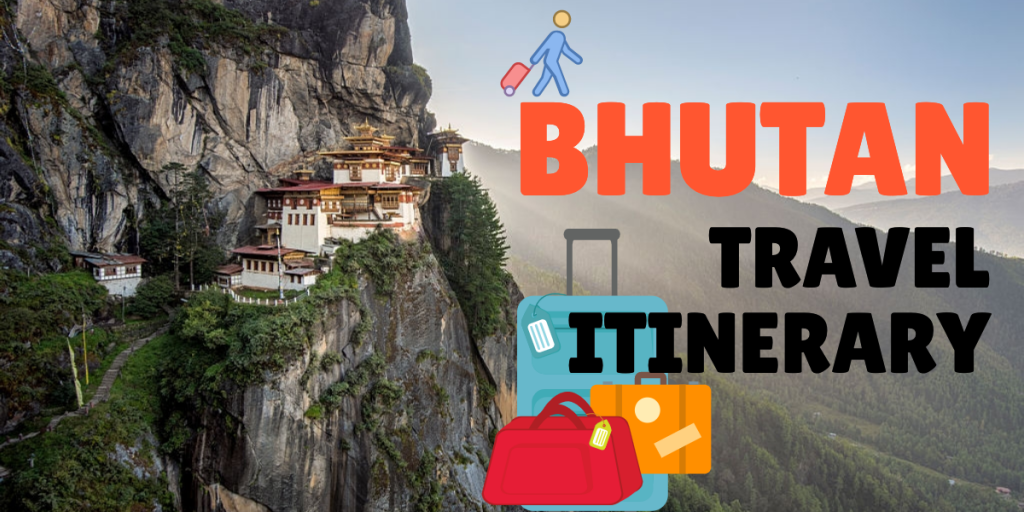 As we take off from New Delhi and bid adieu to gaseous clouds and 2 hours later enter the Bhutan airspace which welcomes us with misty and snow white clouds. I was mesmerised and when I looked down from my window, I saw greenery unparalleled to anything I have seen, with small houses creating scenery that will make you feel you are in some kind of dream land.
After our touchdown at the Paro airport was a beauty to marvel at with hills around it and accommodating few planes it was sure a place, selfie enthusiasts would love to click photos with such beautiful backgrounds who wouldn't. as we entered the airport for immigration check they were really friendly and the best of all things I went there without a passport. Bhutan as friendly relations with India so all we needed was our voter id card and we were good to go.
The immigration officers were in their traditional dress and were very friendly. They only take three minutes and while they were making my permit they asked three questions that were. How am i? what do I do in India and for how many days ill stay in Bhutan that's it, I was good to go. As I exited from the airport they had Bhutan Sim kiosks outside the airport who were giving sim cards in Rs200 Indian Currency because Bhutan and India have same currency rates. And exchanging currency was also not an issue any shop will accept your Indian currency as they too travel to India often.
Bhutan Travel Itinerary Day 1
1 day in Punakha – and 1 day in Paro. So our Day 1 began with Thimphu the capital of Bhutan, it was a fine mix of tradition meets tourism the blending of hotels and restaurants with the local houses and shop was like a show stopper the hotels were young but were in such symmetry with the localities that they were enhancing the beauty of the city's small skyline. The roadside had painted assisted parking which was followed very thoroughly by the locals there. The best part is the people of Bhutan were very co-operative to each other and to the travellers.
They were stopping for us while we were crossing roads and in those 4 days that I spent in Bhutan I did not heard a single iota of honking in any urban or rural area, as expected from the capital it was clean and very tidy the markets to shop clothes and souvenirs was in one single lane and was very easily accessible from our Hotel- Bhutan Kubera, we also had a 24/7 shop near our hotel from where I was able to get myself some of these locally made chips that were cheap but very tasty and were in good quality. I had the best room as I was getting a direct view of the hills wearing clouds like a crown even at 7pm and do you know Bhutan is 30 minutes ahead of us.
My first day ended with me exploring Thimphu street market and getting myself some very good locally produced and handmade bags and jewellery for my dear ones. When I came back to my hotel room I was excited for my day 2 as that was the day I was getting ready to explore the outskirts of Thimphu the rural touch of that place.
Bhutan Travel Itinerary Day 2
Day 2 began with exploring the outskirts of Thimphu where we went to Bhutan's famous Lord Buddha Temple. It was situated on a hilltop and could be seen while we were driving on the fine and broad hilly roads which are so safe that two trucks passing from different lanes won't make sharp turns. When we reached there and saw the statue it was big and by big it was 51.5meters , and was given a golden touch to it. After spending 1 hour in and around the temple and taking my blessings we went to explore more of Thimphu, what better place than a zoo. When we arrived at the zoo it was really silent, one would think that do they have animals in them as there is no cage the pathways to walk for humans are caged and barricaded and their animals like Yak and deer roam freely in the lush green land given to them. After that I came back to my hotel room and looked outside my window while taking sip of tea thinking what beauty does Punakha holds for me.
Bhutan Travel Itinerary Day 3
Day 3 as we started from Thimphu and went towards Punakha we were going from one hill to another but it was very safe as the Royal Bhutan Army was always at some point to check on any vehicle and its requirement. After reaching Punakha the city of forts and temples we went into one of the forts that was beside a river bed and it was such a beauty to marvel at the sound of river gushing down the bridge and the magnificent administrative fort standing above it. As I explored I got to know the fort is divided into two parts. First being the administrative section where all the civil servants work and second where the priests work.
That day I got to know that the Government here works with their religious leaders as well the fort was very beautifully painted with the traditional Bhutani colours and the stairs were aged old wooden stairs, It was my first time witnessing architecture that was more than 200 year old and yet was standing fine with all its glory intact. After that I came back to my Hotel in Punakha which was Hotel Chanan, I was welcomed by their two helpers who assisted me with my bags and helped me till my room and gain what a view from the hotel it was this time it was very finely cut rice agriculture fields which were made in such way that your creativity can make faces out of it. As Lied down on my bed after having a very heavy non vegetarian dinner. I went to sleep smiling on the fact that on day four I will visit the Royal city Paro.
Bhutan Itinerary Day 4
Day 4 came I woke up at 8 am it was the last day of the Bhutan trip. it gave me some of the best memories and they were really good but I had my flight scheduled at 10pm from Paro airport only which meant I had only 16 hours to reach and breach all the corners of this beautiful royal city known as Paro. After a good 2 hour driving we reached at the royal capital Paro and were greeted with amazing view of road and river going along side. First we visited the Administrative buildings of Paro and they were much grander and had the appeal that the royals live around here.
Then we went to tigers nest a mesmerizing place but to visit that beauty you need at least 5 – 7 hours of free time so that you can climb this adventurous hill and come back down as well. This is where the true penance worthy lamas live that have detached themselves from the materialistic world and have made this hilltop abode their home. The beauty of tigers nest is that it's again a very old architecture resting on the edges of the hill. One would find themselves engulfed in clouds when standing near the tigers nest. When we came down it was 7:30pm so I went to the nearest family bar and restaurant to have myself a drink and reflect upon the memories that I have garnered in this beautiful nation Bhutan.
I would recommend Bhutan as the best place to be in solace in the whole of Asia with its beautiful mountains and fresh air, with its amazing food and drinks, with its strict smoking laws that doesn't allow one to smoke out in public. It is the best place to escape to from any city's rustle bustle.