B1/B2 US VISA Process, Business/Tourist Interview Questions:
Hello Friends !! There is Great News & Experience Which We Want to Share With You B1/B2 US VISA Process with Interview Questions, Answers & some tips to make an impression to face the USA VISA Interview. So There are different types of common immigrant Visas like Business Visa (B1) & Tourist Visa (B2). So First Question Comes to Mind "How to USA B1 VISA or USA B2 VISA".
B1/B2 US VISA
(I) B1/B2 US VISA Process : Fingerprint & Interview
(II) Business VISA Interview Questions
(III) Tourist/ Visit VISA Interview Questions
Requirements for the B1 / B2 US Visa
While Travelling to the United States (U.S) by the B-1 / B2 Visa, then the applicant must demonstrate to consular officer by showing the qualify requirements & qualifications under the U.S Immigration and Nationality Act (INA). Under the U.S Section 214(B) these are the requirements as follows ;
-> Valid Reason for Purpose of the Visit According to Business, Tourism or Medical Issues.
-> Must have the Evidence of Stay for Specific Time in the US.
-> Must have Proof of Funds to Cover all the Expenses in the U.S during your visit.
-> Must have evidence of binding Social or Economic Ties to your home country which verify the you'll return back to India.
So Let's Start…..U.S Visa Process for B-1 or B-2
B1/B2 US VISA Process
Fingerprint & Interview: The Business Visitor Visa (B-1) is for business or medical treatment & The Tourist Visitor Visa (B-2) is for Travel Purpose as Tourist or to visit your family or friends etc. But Often B-1 and B-2 Visas Know as B-1/B-2. Before Moving Further, Everybody should know about Book Appointment Regarding to i) Fingerprints ii) Interview Process.
i) How to make fingerprint appointment for US VISA : There are Some Points which should be noticed during the process of fingerprints which are as follows:
(A) Book Fingerprint Appointment: For Booking Appointment For Fingerprints you have to visit Offsite Facilitation Center (OFC) Which is set up by USA Embassy In India or Other countries to provide facility to Process the Visa Application Form. So There are 5 OFC Centers in India like Chennai, Hyderabad, Delhi, Mumbai & Calcutta etc.
NOTE: Fingerprint appointment And Interview Process Appointment Can not be Scheduled on Same Day.
While Applying For B1/B2 USA nonimmigrant visa process, the appointment taken by visitor for B1/B2 Visa Fingerprinting & Biometrics process. Then Visitor has to take some documents for this process:
-> Your passport Number
-> The Visitor Visa applicaton fee receipt
-> The 10-digit barcode number from your DS-160 confirmation page
(B) VISA Fees: First Thing Your VISA Fee is non-refundable and receive a receipt after paying the visa fees which can be paid by both manners online and offline.
| TYPE | VISA NAME | Fee Amount (in USD) USA | Fee Amount (in INR) INDIA |
| --- | --- | --- | --- |
| B1/B2 | Business/Tourist | $160 | 12160.00 |
| | | TOTAL | 12160.00 INR |
NOTE: Offline Fees Payment Bank : i) AXIS BANK iiI CITI BANK
SO After this process you will get reference number & put this reference number by login you id and book your appointment for fingerprints. Then Choose you Fingerprints & Interview Dates According to your concerns.
ii) US VISA Fingerprints Documents Checklist: some of the important documents which should be carried by the applicants in OFC Centers for Business/Tourist US VISA which are as follows:
a) Appointment Confirmation Letter
c) Valid Passport
d) Fee Receipt (If You Paid Offline)
iii) Documents Required for b1 b2 US VISA Interview: These are some documents checklist which should be carry along with you during USA VISA Interview process for B1/B2 US VISA:
DS-160 Confirmation Page Stamped Already at the Visa Application Centre (VAC)
Valid Passport (Old Passport if have any)
Invitation Letter
Personal Bank Statement
Company Bank Statement
3 Year ITR
Company Balance Sheet
Property Documents
Printed Copy of Appointment Confirmation Letter
All supporting documents according to B1 B2 Visa Types
What Happens Inside Embassy or Consulate During Interview Process
During USA Visa Interview Process, a visitor always expects what happen in Embassy or Consulate. Here we will explain step by step process here it is:
Enter in Embassy or Consulate:
When a USA Visa Visitor reaches at the Embassy or Consulate for VISA Interview Process, then Visitor has to stand in queue outside the place. Only Applicants can enter the place. Before Entering the Embassy or Consulate you have to show Original Passport, Appointment Letter, Receipt of VISA Form to the Security Staff Members.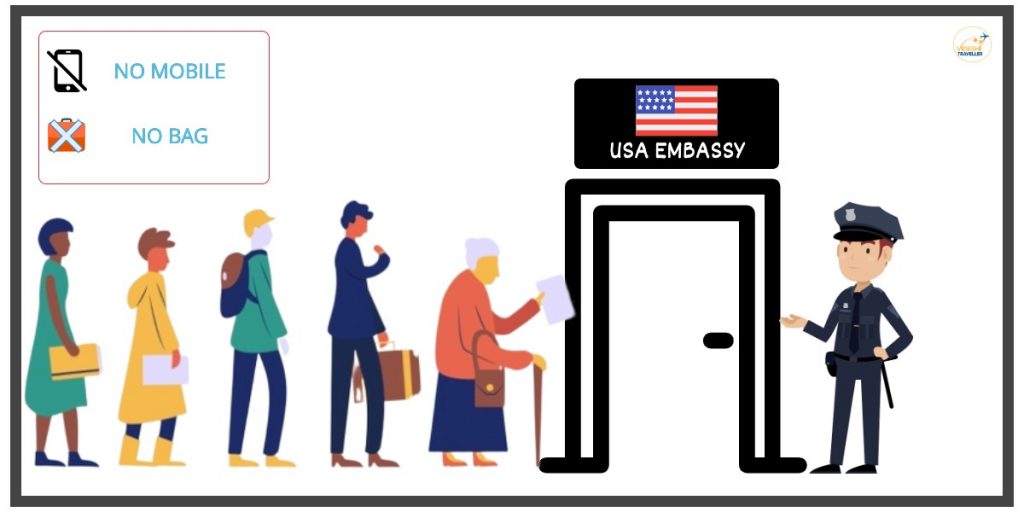 Security Check:
After Checking All Documents the Security Staff Send the visitor through a security check includes the full body metal detector scan and more things.
There are restrictions of Electronic Equipment, Mobile Phons, Bags, Sprays, Perfume, Liquids, Bottles, Food & Dangerous Items. Before Entering into the Embassy or Consulate check these & there are no facilities there.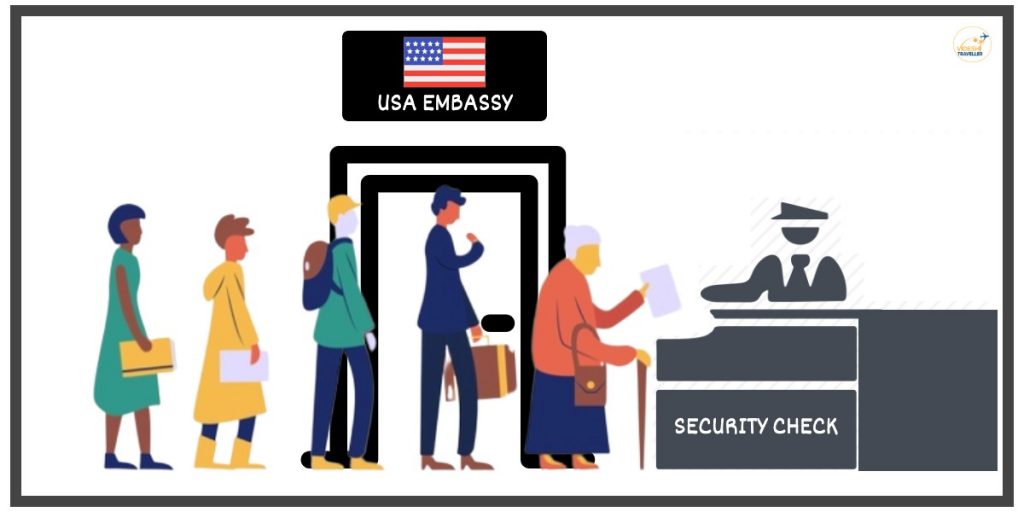 Fingerprint / Bio-Metric Verification:
After Successful Security Check, a token is provided to visitor for your visa interview process. by following all the instructions & rules the staff members send you towards fingerprint or Bio-Metric Verification Process.
Waiting Lounge Area:
After the Successful Process of Verification visitor directed to be seated in the waiting area where other visitors also waiting for there turn. Sit Quietly & Wait for your turn to be called for interview process with keeping the documents ready.
USA Visitor VISA interview:
at last when you called for final stage of interview process you will be directed to the place where interview process will be processed & you will be behind the glass window and communicated through the interviewer through microphone. The interview Staff Authority may ask questions regarding to your US visa Process and verify your original documents. So Please carry all documents with you.
so your US VISA approved or not, it will be decided by the Visa Authority there. Good Luck !!!!
US Visa Interview Appointment
Any applicants who wants to travel the United States (US), must appear to the visa officer for an appointment at the VAC centres and the visa interview at the embassy or consulates. US Visa Interview Dates held after the VAC Appointment by scheduling online. There are some documents checklist for booking an appointment for Interview i.e.
Valid Passport
Visa Fees Receipt
DS-160 Confirmation Page
E-Mail Address
Supporting documents according to your visa type or class.
Documents to Carry for US VISA Interview: At the time of interview, person must carry these documents as follows;
Booked Appointment Confirmation Letter
Stamped DS-160 Confirmation Page by VAC
Current & Old Passports
Supporting Documents According to Visa Class
Track My Passport
After Successful interview, visa officer kept the applicant's passport and after that applicant has question in mind "how long does it take to get the passport after us visa interview". The US Embassy will make alert through SMS and E-Mail to applicant to pick up the passport at selected location. So if you want to track the application follow this link : Check Here
US VISA Interview Waiver
Under this Visa Waiver Program (VWP) which allow the nationals of certain selected countries can travel to United States for Tourism or Business Purpose for 90 Days without obtaining a visa.
Note: Indian Passport Holder are not eligible for this VWP program.
Frequently asked questions (faq) in us b1/b2 visa interview
US B1 / B2 Visa Interview Experience : Friends I Am Sharing My Experience as Business VISA (B1) as i have to attend an event or Conference in USA, So Some Top 10 Questions asked for Business Visa (B1) as Follows:
Why Do You Want to Go to USA ?
Which Type of Conference there ?
What is name of the Conference in USA ?
What Type of Business You DO ?
Which Type of Services you provide through your business ?
Do you provide International services ?
Do you have any friend or relative in USA ?
Have you travelled before Outside of India ?
Which Countries you travelled ? (If Yes)
Have You Take Part in any conference Internationally before ?
USA VISA Interview Questions
There are Top 50 questions asked in us visa interview for b1 b2 held at New Delhi, Chennai, Mumbai, Hyderabad Embassy or Consulates as follows:
What is the Purpose Behind your visit or travel to the US?
Have you ever visited to the US previously?
Do you have family members or companions presently in the US? Who are They ?
Where will you stay in US During Your Travelling or Work ?
For How Much Time will you stay in the US ?
For what reason do you intend to remain so long this trip, would you be able to remain shorter?
Have you booked your Tickets?
For How Much Time will you stay in the US ?
How much do you think your stay in the US will cost to you?
How will you be financing your trip? Who is your sponsor?
How can you assure me that you will return to your home country?
How much do you think your stay in the US will cost to you?
Who will take care of your House | Property | Children |Pets while you are away?
How Long You Have Working in Current Company ?
Have you bought Visitor Medical Insurance ?
Who is your client & job role in US ?
What is you highest Educational Qualifications ?
What is your annual salary in company ?
How Long did you get Married ?
Do you know your rights in the us as non-immigrant visa holder ?
Do you have any relatives in US?
Why did the company chose only you for the travel?
have you visited any other country apart from India?
have you meet your client?
Did the Employer pay for H1-B or You Paid ?
What kind of business does your sponsoring employer do?
What tasks and duties will you be expected to perform during your stay?
Why have you chosen to work in the U.S.?
For How Long Have you run the Business ?
How Many Employees do you have ?
Who will take care of you business in your absence ?
What Kind of Business you Do ?
Would You please show me Your Company's Balance Sheets & Tax Returns ?
How Much is Your Annual Turn Over ?
How Did you come to know about this Conference or Exhibition ?
Have You Attended Any Conference or Exhibition in past year or away from your home Country ?
How will you benefit from attending this conference or exhibition ?
How is the Subject of this Conference related to your Work / Business ?
Do you own a credit card?
Where is Your Company's Office & Show your Visiting Card ?
How Can You Survive In USA ?
Will You Work in USA During Your Trip ?
Are you visiting someone in the United States?
What is your inviter's visa status?
How long has your inviter been staying in the United States?
Do you have properties in India?
Could you please explain your travel plan?
Which Type of Services you provide through your business ?
Can't you finish your visit earlier? Why do you want to stay for so long?
What are the expenses you will be expecting to incur on this visit?
US VISA Interview Experiences
Here We'll Share with you a visa interview experiences with questions & answers for different situations for Business or Tourist Visa related ;
(1) Where are you going into the United States ?
Ans : Spartanburg, South Carolina
(2) Tell About Your Purpose of Visit ?
Ans : To Supervise the Installation in Ring Spining Machine in the my Textile industry and also make sure to no error occur during the Work. After Observation and supervision, i'll collect all data & details and will return back to India & will submit my all details about my supervision.
(3) Time to Stay There ?
Ans : 2 Months
(4) Tell Your Designation In Your Company ?
Ans : Assistant Manager
(5) What is Your Your Salary in P.A ?
Ans : ********
(6) Who is Sponsoring Your Complete Trip ?
Ans : My Company is sponsoring the whole trip.
(7) Have You Visited or Gone to Abroad Before ?
Ans : No
(8) How Much Experience in Your Current Company ?
Ans : I have total 10 Year Experience and 1.4 Years in Current Company.
(9) Why is the Duration of Stay is 2 Months ?
Ans : Ma'm Supervising the Machine will take 2 Months. Thats why
The Visa Counsel Officer told about the rejection of visa and gave 214b Form. So Share Your Visa Interview Experience.
How to Crack US B1/B2 Visa Interview
To Crack the US B1/B2 visa interview depend on the basis of your preparations, correct checklist of documents according to your visa type and ability to answer the questions asked in interview and most important your body language or gesture. So These are some interview tips and factors which will assure you i.e. you will GET USA VISA or NOT During Interview Process as follows:
i) Be Clear with purpose or Intention regarding to Travel USA.
ii) Reason to Return Back India After Travelling USA, so show your ties in India Regarding to this query.
iii) Carry Supporting Documents.
iv) Be Confident, Cheerful & Happy.
of course there are many other reasons to us visa rejection with a each unique case.
Dress Code for US VISA Interview
If any person who are preparing for the US visa interview for the B1/B2 or any class of visa, always keep in mind. There is no dress code for us visa interview and best to wear what to you want as wear formal or casual clothes.
Most Asked US B1/B2 Visa Interview Questions in 2019 [Business, Tourist]
US Visa Interview Videos
if applicants who wants to prepare for U.S. Immigrant Visa Interview Question & answers, follow along with these all recorded videos. As Follows
What Questions ask in US Visa Interview
How to Get USA VISA from India? US VISA tips in Hindi
Apply for US VISA? DS 160 form, Fingerprints & Interview Appointment
So For more helpful US VISA Application Form, TIPS, Face US VISA Interview in Hindi etc, keep in touch with us and do comments regarding to your queries and share your latest reviews of candidates after us interview for b1 or b2 visa with us in comment box.