How to Apply for H-1B VISA from India : Application Form Deadline:
It would be April 1st Week of 2020 for beginning of H-1B Visa applications for FY21. United State Citizenship and Immigration Services (USCIS) may start accepting applications for the next fiscal year from April 2020. That means Applications for H1B visa would be accepted for FY 2021 from April 2020 as per reports. H-1B Visa Applications usually begins 6 months prior to start of the next fiscal year in USA. USCIS fiscal year will starts from 1st October 2020.
Apply for H-1B VISA from India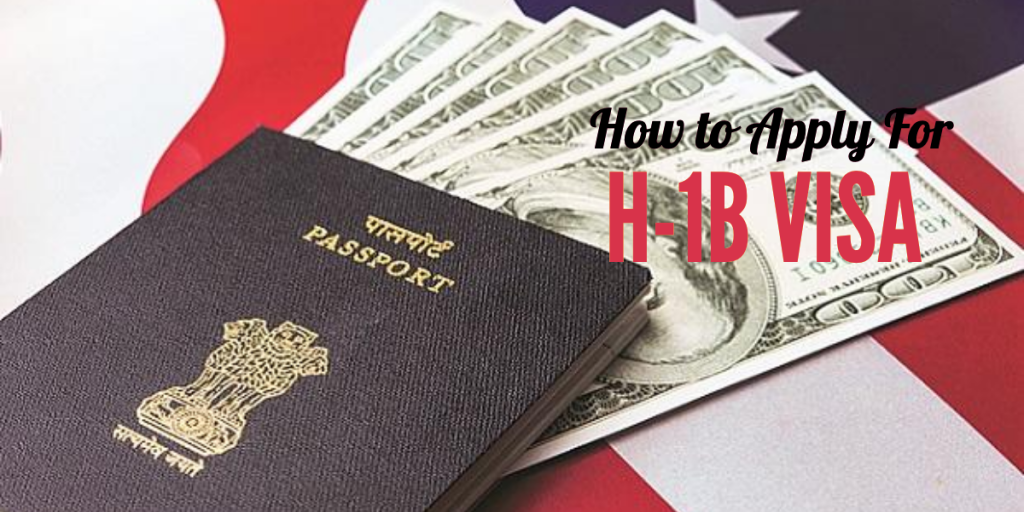 In US the H-1B program allows companies of the United States to temporarily employ Foreign workers in occupations that require the theoretical and practical application of a body of highly specialized knowledge and a bachelor's degree or higher in the specific specialty, or its equivalent. USCIS from foreign countries invites Applications for H-1B Visa on annual basis in starting of April month every year. H-B visa specialty occupations also include fields such as science, engineering and information technology, and fields such as teaching and accounting.
Apply for H-1B VISA Pre-Registration Process / Benefits
The H-1B visa Pre –Registration process by United States Citizenship & Immigration Services shall be made available to the applicants, managing attorney at NPZ Law Group said.
"Preregistration has a potential for abuse, because the fair and random H-1B lottery may be lowered to a closely guided and criteria-driven process. The data available may be filtered to choose only those H-1B registrations which do not require third-party placements, or to select applications of sponsoring companies that only have a certain number or less of foreign employees. It could result in a discriminatory process for choosing which companies get H-1B visa", told expert & it is yet to see how USCIS to roll out.
News– The number of applications for H-1B visa is on rise, for FY20 US received 2 lakh H-1B applications after a two years' marginal dip in percentage.
H-1B visa applications for the financial year FY21 are expected to start from April 2020.
As per report suggested USCIS was told to "publicly confirm by September 15 if, and when, the e- registration system for H-1B visa will be made available. The suggestions for H-1B visa for FY2021 referred that applications are to be filed in April 2020.
USCIS should also allow for maximum stakeholders' participation and their feedback on e-registration and technical functioning to ensure the system is fully supportive and functioning before USCIS use.
H-1B Visa Total Application Numbers– The annual quota of 85000 visas under H-1B category is approved by the USCIS. As applications for visa begins in April month it gets filled in the first few days only. Successful applicants after lottery will be able to work in US from October 1st of next Financial Year.
Out of total 85,000 annually approx. 65000 H-1B Visas are from regular cap and 20,000 are from master's cap.
Apply For H-1B VISA USA New Rule

DHS announced a final rule amending regulations governing cap in subject to H-1B petitions, including those that may be eligible for the advanced degree exemption. The final rule reverses the order by which USCIS selects H-1B petitions under the H-1B regular cap and the advanced degree exemption, and it introduces an electronic registration requirement for petitioners seeking to file cap-subject H-1B petitions. The rule will go into effect on April 1, though the electronic registration requirement will be suspended for the FY 2020 cap season
To save sponsoring employers from filing extensive documentation for all applications just to entry into the lottery applicants will be required to submit a registration for each qualified H-1B visa beneficiary whom they wish to sponsor in the H-1B cap lottery.
In the new registration rule, employers have to register their potential H1B hires during the H1B registration window in the USCIS registration system. USCIS will release lottery based on the registration and inform the selected registrants to file H1B petition from April 1st. In the new process, the order of H1B lottery is changed to select Regular cap quota petitions first and then Masters quota petitions.
Proposed Dates for New System: USCIS new Registration System will be implemented starting with H1B FY 2021 cap season.
| | |
| --- | --- |
| H1B Fee – Paid Towards | Fees in USD (Apporx) |
| Base filing fee | $460 |
| AICWA Fee | $750 or $1,500 |
| Fraud prevent & detection fee | $500 |
| Fee based on Public Law 114-113 (if applicable) | $4000 |
| Premium processing fee (Optional) | $1,410 (from Oct 1, 2018) |
| Immigration Attorney Fee | Varies from $500 to $3000 |
Release of H-1B Visa Lottery for FY21
USCIS would release Lottery of H-1B visa describing eligible applicants through its website. On total 85,000 slots H-1B visa including (Master's cap quota of 20,000).
During the registration process, companies/petitioners will be required to provide a number relevant to information about H-1B beneficiary.
In case number of registration submissions exceeds the 85,000 which is set as limit, USCIS will conduct computer based Lottery to determine the registrations selection.
Date of Release of Lottery Results- USCIS informs about actual results for everyone after completed sending our receipts for accepted petitions. This process may take months long time to get the actual results, depending on if applicant's selection made in lottery or not. In earlier Lotteries including FY19, USCIS sent rejected applications till July, with a timeline given till August month. In this case lottery results of applicants can be sounded in between April to August anytime.
Rejection– Selection in the lottery process does not mean an automatic grant of the H-1B visa to the applicant. USCIS reserves the right to seek the application for reject any time. USCIS will now begin the process of rejecting and returning all unselected applications with their filing fees unless the application violates the rules.
Top Three Reasons for H-1B Visa Denial
Among the top three reasons for denials of H-1B applications according to USCIS are as follows-'
1) Inability by the sponsoring employer to establish that the position is a specialty occupation
2) Inability to substantiate a valid employer- employee relationship (including the right to control work)
3) And lack of evidence of specific assignment at third party sites for the entire visa-duration requested.
Earlier the application pre-registration process for H1B FY 2021 season after USCIS New H1B Registration Rules, were expected ahead of the April month, but due to amended rules it get delayed.
Official Website: www.uscis.gov/ ;www.ustraveldocs.com/in/