B1/B2 US VISA Process, Business/Tourist Interview Questions:
Hello Friends !! There is Great News & Experience Which We Want to Share With You B1/B2 US VISA Process with Interview Questions, Answers & some tips to make an impression to face the USA VISA Interview. So There are different types of common immigrant Visas like Business Visa (B1) & Tourist Visa (B2). So First Question Comes to Mind "How to USA B1 VISA or USA B2 VISA".
B1/B2 US VISA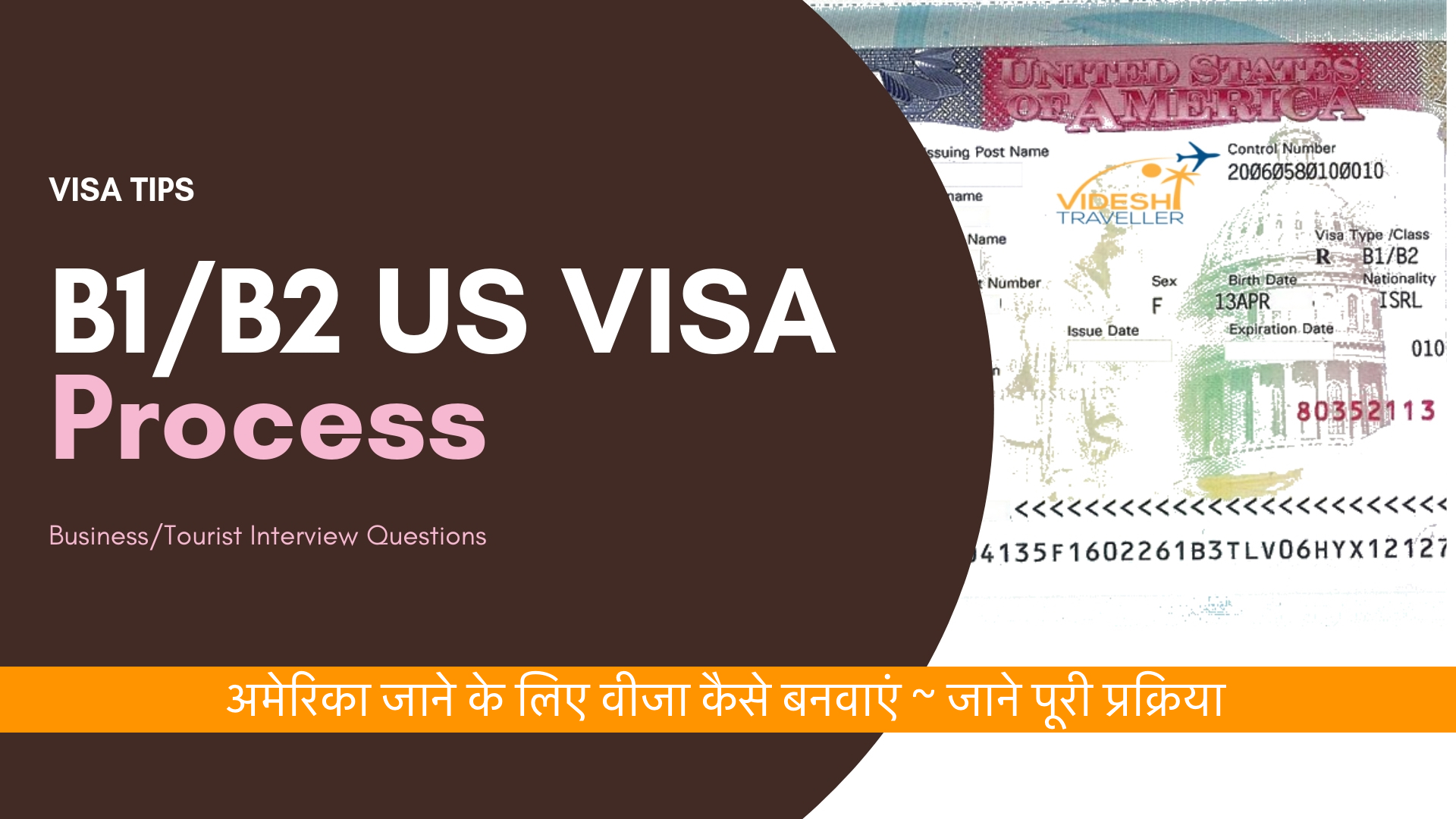 So This Article will clear all doubts regarding to Process of US Business/Tourist VISA, Interview Questions & documents checklist etc. So Follow these all steps sharply to prevent from US visa rejection.
(I) B1/B2 US VISA Process : Fingerprint & Interview
(II) Business VISA Interview Questions
(III) Tourist/ Visit VISA Interview Questions
So Let's Start…..
B1/B2 US VISA Process
Fingerprint & Interview: The Business Visitor Visa (B-1) is for business or medical treatment & The Tourist Visitor Visa (B-2) is for Travel Purpose as Tourist or to visit your family or friends etc. But Often B-1 and B-2 Visas Know as B-1/B-2. Before Moving Further, Everybody should know about Book Appointment Regarding to i) Fingerprints ii) Interview Process.
i) How to make fingerprint appointment for US VISA : There are Some Points which should be noticed during the process of fingerprints which are as follows:
(A) Book Fingerprint Appointment: For Booking Appointment For Fingerprints you have to visit Offsite Facilitation Center (OFC) Which is set up by USA Embassy In India or Other countries to provide facility to Process the Visa Application Form. So There are 5 OFC Centers in India like Chennai, Hyderabad, Delhi, Mumbai & Calcutta etc.
NOTE: Fingerprint appointment And Interview Process Appointment Can not be Scheduled on Same Day.
(B) VISA Fees: First Thing Your VISA Fee is non-refundable and receive a receipt after paying the visa fees which can be paid by both manners online and offline.
| TYPE | VISA NAME | Fee Amount (in USD) USA | Fee Amount (in INR) INDIA |
| --- | --- | --- | --- |
| B1/B2 | Business/Tourist | $160 | 12160.00 |
| | | TOTAL  | 12160.00 INR |
NOTE: Offline Fees Payment Bank : i) AXIS BANK iiI CITI BANK
SO After this process you will get reference number & put this reference number by login you id and book your appointment for fingerprints. Then Choose you Fingerprints & Interview Dates According to your concerns.
ii) US VISA Fingerprints Documents Checklist: some of the important documents which should be carried by the applicants in OFC Centers for Business/Tourist US VISA which are as follows:
a) Appointment Confirmation Letter
b) DS-160 Application Form
c) Valid Passport
d) Fee Receipt (If You Paid Offline)
iiI) US VISA Interview Documents Checklist: These are some documents checklist which should be carry along with you during USA VISA Interview process for B1/B2 US VISA:
DS-160 Application Form
Valid Passport
Invitation Letter
Personal Bank Statement
Company Bank Statement
3 Year ITR
Company Balance Sheet
Property Documents
USA Business VISA Interview Questions
Friends I Am Sharing My Experience as Business VISA (B1) as i have to attend an event or Conference in USA, So Some Top 10 Questions asked for Business Visa (B1) as Follows:
Why Do You Want to Go to USA ?
Which Type of Conference there ?
What is name of the Conference in USA ?
What Type of Business You DO ?
Which Type of Services you provide through your business ?
Do you provide International services ?
Do you have any friend or relative in USA ?
Have you travelled before Outside of India ?
Which Countries you travelled ? (If Yes)
Have You Take Part in any conference Internationally before ?
USA Tourist VISA Interview Questions
Top 10 Question Regarding to Tourist Visa (B2) as follows:
Why Do You Want to Travel to the USA ? (Only At This Time)
How Many Days Will You Stay there ?
Where will you stay in the U.S. ?
In How Much Time You will finish your trip to USA ?
How Much Money Do You Expect this trip to USA to Cost ?
Do You have relatives or friends currently in the us ?
Have you Booked Airline Ticket & what places you will visit ?
Have You Ever Traveller Internationally before ? (if YES the Where ?)
When Do you plan to Travel the USA ?
Do You Have A Credit Card ?
Have You Bought Visitor Medical Insurance ?
USA VISA Interview Tips:
So These are some tips and factors which will assure you i.e. you will GET USA VISA or NOT During Interview Process as follows:
i) Be Clear with purpose or Intention regarding to Travel USA.
ii) Reason to Return Back India After Travelling USA, so show your ties in India Regarding to this query.
iii) Carry Supporting Documents.
iv) Be Confident, Cheerful & Happy.
of course there are many other reasons to us visa rejection with a each unique case. so For more helpful US VISA Application Form, TIPS, Face US VISA Interview in Hindi etc, keep in touch with us and do comments regarding to your queries.
How to Get USA VISA from India? US VISA tips in Hindi

Apply for US VISA? DS 160 form, Fingerprints & Interview Appointment

B1/B2 US Visa Interview Questions in Hindi: VISA Experience